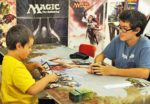 Please note that after May 21, we will be taking a short break from afternoon Magic for kids. We will resume as soon as we figure out a workable time for summer/fall staff and families. If you want to be notified of the new schedule, email us and we will put you on the email list, or you can check back with us.
Thank you!
Join us for casual games of the popular trading card game Magic the Gathering, play with other kids, and get mentoring and instruction from one of our staff. Sundays 1-2:30 $5 per week (occasionally there is a special event like a prerelease that may cost more if multiple booster packs are handed out, please verify cost or join our email list for updates). Parents please come in and register kids the first time and fill out Hood River Community Education paperwork, this is a supervised event. Bring cards and deck if you have them. Promo Cards for Prizes. Formats vary and we have a few loaner decks. Ages 8-14.
Kids must remain in the game play area during the entire event and be able to focus on game play. There is no supervision available after 2:30pm. Children must be able to remain seated in the play area and focus on game play during the event time. Hood River Hobbies, LLC is not responsible for lost or stolen items, or trades made during the event, or for unattended children before or after event times. In case of last minute cancellations due to weather or illness, please check in before dropping off children.