Magic Prerelease Rivals of Ixalan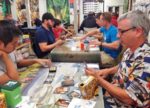 This will be a Sealed tournament where you build a deck out of 6 packs and land cards. You also get a spin down die and a promo. The Sunday Noon event will be limited to 3 rounds. Sunday Jan 14th at 4pm will be a 2-headed giant sealed so please bring a partner.

The fee is $25 for each event.
Hood River Hobbies adheres to tournament formats and rules set forth by Wizards of the Coast. Here is information about Sealed deck format of prereleases.
Times listed are the approximate tournament start time so please come a few minutes early to register. End time of events vary depending on the number of and experience of players, as well as the speed of play. When numbers of players are uneven, one person may be given a "bye" for that round and may stay in the shop and watch the games of others, or leave briefly. Parents must register children. Hood River Hobbies, LLC is not responsible for unsupervised children, lost or stolen items or unfair trades.
For prerelease events, we generally do one pack per person as a participation prize and the remaining packs to the top placers. If we have an alternate prize format for a specific event we will announce it at the start of the tournament or you may ask when registering.