Classes & Hobby Groups to Join!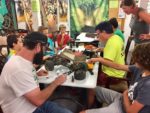 One of our goals as a small independent hobby shop is to bring people together in the community. We believe that hobbies are the most fun and rewarding when we share them with others of similar interests. There are all sorts of opportunities to participate in local events and clubs. We post them on our event calendar (on this website) and facebook page as we are notified.
We have updated our calendar with fall/winter classes. Some of these will also be listed in the Hood River Community Education catalog.
For trading card game enthusiasts we have Pokemon Club on Wednesdays at 4pm. We also have Magic for kids on Sunday afternoons at 1:30pm. As well as Magic tournaments for teens and adults on Friday Nights at 6:30 and most Sunday afternoons at 3pm.
We have tables that can be used for free board game play and have free demo games to try. We sometimes hold board game events and demos- stay tuned as we often add things to our calendar.
We have intermediate and beginner rocket building classes and launches planned in conjunction with the Gorge Rocket Club.
For radio-controlled enthusiasts we have an an Indoor RC Flying Class starting in January. We also support local RC car, plane, and sailing clubs that welcome new members.
If you have questions on how to join, or have a club that might want to meet at the shop, email us!