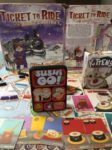 Hood River Hobbies, LLC carries a wide variety of Board Games, Trading Card Games, Gaming Accessories, and hosts regular gaming events. See our calendar of events for details.
Board Games
Euro Games like Catan
Family Games by Gamewright
Adult Party Games like Crabs Adjust Humidty
Strategy Games
Traditional Games like Cribbage
Role Playing Games
Demo games are available for free play in our gaming area while other events are not in progress.
Magic the Gathering trading Card Game
Booster Packs, Decks, and Singles
Events including Friday Night Magic
Afternoon Magic for Kids (see our calendar)
Tournaments for special events such as launch events, Game Day, and league play on Saturday and Sunday
Pokemon Trading Card Game
Booster Packs, Decks, and Singles
Gaming Accessories
Dice
Binders
Sleeves
Deck Boxes
Counters