LAST CALL to enroll in the RC Combat Build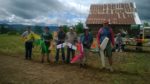 If you are interested in the building part of this event, please come into the shop and preregister and talk to Zed with any questions by Saturday May 6 (end of day). We need to do a group order and if you aren't in time, we may not have a wing kit for you in time for the build.
Above is a video of a Barrett Field (not combat flight) fun fly.
Hood River Hobbies is having a building workshop to build the Assassin combat airplane for combat events this summer and fall. The Assassin is a small flying wing designed specifically for combat. Highly maneuverable, extremely durable, very fast, and inexpensive the Assassin is sure to become one of your favorite planes.
Although the event is free, preregistration is required and supply fees will apply. Supply fees based on attendance but will run 40-50 for the plane and similar for the electronics. Please contact Zed if you are interested. Register by May 6 to ensure we have the materials for your plane.