Magic the Gathering for Kids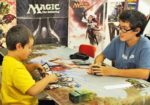 After May 21, we will be taking a temporary hiatus of our Sunday afternoon Magic the Gathering for Kids class. We will resume after we find a workable time for summer staff and families. If you are interested in participating, please email us and we will notify you of the new time.
In the meantime, we do have Magic tournaments open to adults, teenagers, and kids. Parents need to come in and sign a waiver, and young children may need supervision by and adult or sibling. If you need help with your deck or understanding the format or details of how tournaments run, just ask us, we are happy to help.
Thank you!