Spring Break RC Flying Fun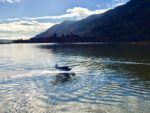 We had great fun at the RC Float fly at Rowena this morning. Join the Columbia Gorge Aeromodelers to hear of more community events like this. We have posted some videos below.
We also closed the indoor rc flying season with our last gathering this evening. Hopefully the nice weather will continue and we can play outside!
Enjoy these videos – we also posted them on our Youtube channel.