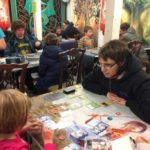 We have just added many events to our calendar!
Hood River Hobbies, LLC strives to connect people in our community with others who share the same hobby.
We sponsor and promote game events for trading card games like Magic the Gathering and Pokemon, classes and gathering for radio-control enthusiasts, indoor rc flying, rocket launches, rocket and model building, bird walks, kids classes, and more. Events are seasonal and based on staff availability.
We often add new listings so check back frequently or to be notified join our email list or like us on Facebook!
The best way to make sure that events you love continue is by attending them regularly. You can sign up for events in person at the shop, some require advance registration (see event listing or ask us for details).
We also have a game play area that can be used for model building or other activities upon request – when other events are not in progress. Just ask us!